Experience Mazda 2013 CX-5 today!
February 13 2012, David Létourneau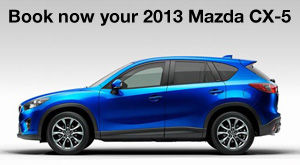 You like the safety of a compact SUV? You like fuel economy? You want the best technology? Here for you the Mazda CX-5 2013....
The Mazda CX-5 2013 is the SUV that has the best fuel consumption of the category. It offers standard complete safety equipment including hill assist control, several airbags and dynamic stability control. Its important to not forget that the Mazda CX-5 is equipped with the technology of the year: SKYACTIV.

Experience Mazda and book your CX-5 now at your Mazda dealer!