The History of Kentville Mazda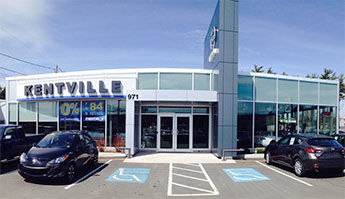 In 2001, Mike and Lisa Landry purchased Robinson Mazda, which they renamed Kentville Mazda. At the time, the Landry's owned a domestic automotive store and were quite excited about the idea of being able to get into the import market - especially with a Mazda franchise.
With the new marketing strategies and sales approach, Kentville Mazda made its imprint on the Annapolis Valley Marketplace as having one of the highest market shares for a Mazda franchise in North America, while also achieving the top Customer Satisfaction Award in all of Canada. Kentville Mazda has received Dealer of Distinction and President's Club consecutively, while also being one of the largest volume dealerships in the Annapolis Valley for the last four years.
Personalized Experience with Every Customer
While these accomplishments have made Kentville Mazda the dealership of choice for many consumers, we feel it is the way customers are treated that has truly impacted our success. The staff is committed to providing a personalized experience with every customer. We want you to feel like part of the Mazda family whether you are looking to purchase one of our great Mazda vehicles or one of our premium previously-owned vehicles.